Standing up for workers' rights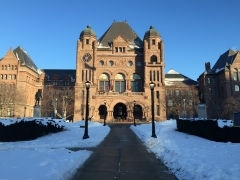 RNs, NPs and nursing students know that the lack of decent work and living wages takes a toll on the health of workers and their families. People who are precariously employed are at double the risk of diabetes, 2.5 times more likely to experience fatal occupational injuries and have a 40 per cent higher risk for heart disease.
In response to Bill 47: Making Ontario Open for Business Act, which will freeze the $14 minimum wage, remove two paid sick days and repeal Bill 148, the Fair Workplaces, Better Jobs Act, RNAO is calling on the government to withdraw the bill in its entirety.
In place of raising the minimum wage to $15 per hour on Jan. 1, 2019, Premier Ford plans to offer minimum wage workers an income tax credit. However, nurses know that the benefits of raising the minimum wage outweigh other options.
According to CBC News's calculations and an independent economist, workers who earn $14 per hour full-time would have a maximum tax credit of $859 per year under Ford's plan. However, with a minimum wage of $15 per hour, workers would take home an extra $1,553 per year.
In addition, more than half of Canada's economy is powered by consumer spending and higher wages stimulate the economy by enabling stronger consumer spending.
To learn more, please read our submission on Bill 47.
On Nov. 21, Ontario Progressive Conservative government passed Bill 47.