Spreading the word about RNAO's work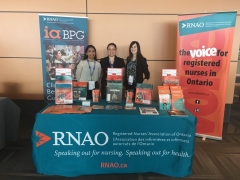 At the annual Canadian Agency for Drugs and Technologies in Health (CADTH) Symposium in Ottawa, RNAO staff took to the stage to share the work of the International Affairs and Best Practice Guidelines (IABPG) Centre .
For a session on the Ethical, Legal and Social Issues in Health Technology Assessment, Grace Suva, IABPG program manager, presented the association's research exploring the nurse's role in medical assistance in dying (MAID) as well as the organization, system-level supports needed for MAID.
Laura Legere and Nafsin Nizum, two senior nursing research associates, presented a poster on a systematic review that was conducted to inform recommendations for the Adopting E-Health Solutions: Implementation Strategies best practice guideline.
The annual CADTH Symposium, which was held at the Shaw Centre in Ottawa from April 23 to 25, brought together more than 800 people this year to discuss the value in health care and how different stakeholders define, measure and incorporate that value into effective assessment and management of health technologies.
RNAO's presentation on MAID is available online. For more information on the 2017 CADTH symposium, please visit the website.