Speak out for nursing: Become a workplace liaison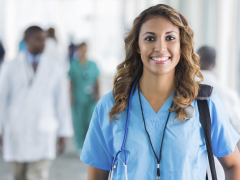 Looking for more ways to speak out for nursing?
Become a workplace liaison and join almost 200 members who are giving a voice to nurses. This is a great opportunity to earn RNAO recruitment rewards, create a visible presence for RNs and NPs in your workplace and connect with your colleagues about your shared pride in your profession.
Learn more about the Workplace Liaison Program online.
To volunteer for the program or for more information, please contact Ann-Marie Morris at 1-800-268-7199 ext. 220 or by email at amorris@RNAO.ca.