Speak out for nursing: Become a workplace liaison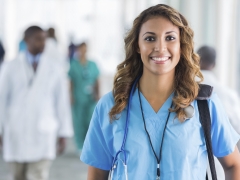 Are you passionate about nursing? Do you talk about the benefits of belonging to RNAO with your colleagues at work?
If so, RNAO is inviting you to become a workplace liaison and get credit for spreading the word about your professional association in your workplace.
This can include sharing information by email, putting up posters, speaking at events or just chatting with co-workers on break.
By joining this program, you will receive monthly newsletters and access to home office support. You will also earn RNAO recruitment rewards, create a visible presence for nurses in their workplace and connect with colleagues about their passion for their profession.
As a workplace liaison, you will also be invited to attend our celebration luncheon taking place at RNAO's 92nd Annual General Meeting (AGM) on Saturday, April 29 from 1:30 to 3:30 p.m. Come and join us for great presentations along with a complimentary lunch and networking opportunities.
Sign up today by contacting Patti Hogg at 416-599-1925 or emailing her at phogg@RNAO.ca and she will look after all the details and get you and your organization started with this growing program.