Sign Action Alert: What's the plan, premier?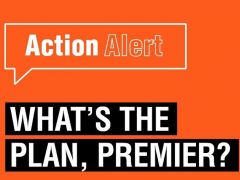 With vaccinations rolling out in jurisdictions around the world, we entered 2021 with a glimmer of hope. But our vaccination rollout here in Ontario has had a slow start out of the gate.
As more supplies of the vaccine arrive, RNAO is urging the government to focus on key aspects of the vaccine rollout that are essential to its success. These include: the need for transparent and detailed plans for the massive immunization campaign commencing in March; the need to engage public health and community providers as pillars of the rollout; the importance of giving priority to elderly Ontarians who are most likely to die from COVID‐19; and targeted efforts to vaccinate vulnerable populations that otherwise may be inoculated last, or not at all.
As RNAO has indicated on various occasions, the successful rollout of Phase 2 should rely on thousands of nurses, physicians and pharmacists working in community care across this province. Every year, these skilled professionals provide routine vaccinations through public health and established networks, including primary care, pharmacies and home care. These community‐based infrastructures, and the health‐care professionals who make them work, use tried and true distribution systems for vaccination. They must be utilized fully to deliver what is urgently needed – COVID‐19 vaccinations – 24‐hours‐a‐day, seven‐days‐a‐week.
And we remain steadfast in the discussions we've had with the Premier Ford and Health Minister Christine Elliott to prioritize the vaccination of vulnerable populations in our communities. It is seniors – 60 years old and up – who are most vulnerable to dying from COVID-19.
RNAO remains extremely concerned that elderly persons outside long‐term care settings do not appear to be at the front of the queue in Phase 2. They appear to be further back than health‐care workers who do not work on the frontlines, or even other essential workers such as firefighters who must be supported, but who are, on average, much less likely to die from COVID‐19.
Vaccinating vulnerable populations must also be a priority. Persons in disadvantaged social groups may encounter language barriers, misinformation, lack of access to technology, difficulties using online appointment software, historical injustices, mistrust of government and medical institutions, mobility restrictions, financial constraints, employment concerns (i.e. missing a day of work to get vaccinated), and so on. All of these barriers must be squarely addressed early in Phase 2. Targeted plans for each community need to fit the needs of that community. This is the only way vulnerable populations will get the priority they require in vaccine rollout.
For more information, please read our letter to Premier Doug Ford and Health Minister Christine Elliott. Sign our Action Alert to the premier to ask, "What's the plan, premier?"
On Feb. 22, the provincial government announced each of Ontario's 34 local public health units will be responsible for coming up with and carrying out their own plan to vaccinate residents in their region. RNAO welcomes the announcement and looks forward to continuing to work with public health units to execute a successful vaccination program. More details can be found online.