Sign Action Alert: Sound the alarm on surging opioid overdose deaths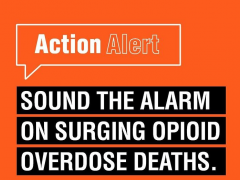 The COVID-19 pandemic has had a profound effect on Ontario's opioid overdose crisis. Pandemic-related public health measures have limited access to needed services and supports and left more people using alone.
On average, six people die each day due to overdose across the province - a 40 per cent increase over pre-pandemic deaths. Last year, an estimated 2,200 people died in Ontario from opioid overdose. The loss of life is preventable and the trauma and grief for families, friends and frontline workers are overwhelming.
The federal government has responded to this public health crisis with an emergency measure, which allows provinces to establish Urgent Public Health Needs Sites (UPHNS), known more commonly as overdose prevention sites. RNAO believes Ontario should do its part.
Call on Premier Doug Ford and Health Minister Christine Elliott to urgently fund UPHNS in communities across this province and save lives.
Sign our Action Alert today.