Sign action alert: Call on Premier Ford to suffocate COVID-19 now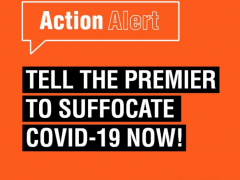 Premier Doug Ford must act swiftly to suffocate community spread of COVID-19. While RNAO wholeheartedly supports the government's announcement on Jan. 25 to expedite vaccination of LTC residents, rampant community transmission threatens to completely overwhelm hospital intensive care units and has forced the cancellation of surgeries and procedures. As with the vaccines, delay in taking bold action to support vulnerable populations that can't afford to self-isolate is costing lives and putting our health system and its health-care workers at undue burden – physically and emotionally.
As outlined in our media release, we are calling on Premier Ford to:
Provide working people with 10 paid days of sick leave. Workplaces have become a major source of transmission for COVID-19 yet nearly 60 per cent of Canadians aren't entitled to a single paid sick day. When workers cannot afford to protect themselves, then they cannot protect their families, their co-workers and the rest of us.
Invoke a moratorium on evictions, not only a short-term pause on eviction enforcement. As this pandemic rages on, Ontario's Landlord Tenant Board continues to conduct eviction hearings that do not allow for adequate counsel and representation.
Provide accommodation for people awaiting test results and recovering from COVID-19 to isolate. COVID-19 has ravaged low-income communities living in overcrowded housing. Everyone needs the ability to self-isolate while awaiting testing or recovering from COVID-19.
Workers need access to paid sick days and the federal benefit is inadequate. The implementation of paid sick days for Ontario workers, including temporary and precariously employed workers, is a central measure to improve population health and stop the spread of COVID-19. RNAO has long advocated for paid sick days and we are urging the government to provide 10 paid sick days annually for workers without the federal benefit. To learn more, please read our joint letter.
We thank the government for responding to our call for a moratorium with a temporary pause on enforcement of residential evictions, however, the government needs to go much further. The Landlord Tenant Board must stop hearing eviction applications during the pandemic. They are not providing tenants with adequate access to counsel and representation and a fair hearing. Also, the moratorium needs to extend beyond the duration of the province's emergency order because the economic impacts of this pandemic will have devastating long-term effects.
Also needed are more places – across Ontario – where people can self–isolate, especially for those who live in crowded accommodation and are unable to isolate themselves from other family members.

Sign our action alert and check your email for our weekly COVID-19 updates by our CEO Doris Grinspun for more information.