Should first responders, including police carry and be trained to use naloxone? See the results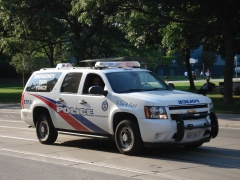 The results are in. After 117 responses, our In the Loop poll has found that a majority of respondents feel first responders, including police should carry and be trained to use naloxone, an antidote that can reverse an opioid-related overdose.
Yes – 86.2 per cent
No – 9.5 per cent
Unsure – 4.3 per cent
Currently, Ontario's provincial police as well as front-line officers in Peterborough, Barrie and Durham region are equipped with naloxone kits, however, police in Toronto and Hamilton are not equipped.
In response to the overdose crisis in Canada, RNAO is advocating for funding and regulatory support for harm-reduction strategies including supervised injection services, and increased access to naloxone programs.
In 2016, RNAO held a webinar about increasing naloxone availability across Canada as well as the perspectives on its implementation across Ontario and the role of nurses and other health-care providers in promoting naloxone among their clients. To see the archived webinar, please go to RNAO.ca/mentalhealth/video and find it under "Webinars 2016".
A best practice guideline on supervised injection services is expected in early 2018.