Should employees receive seven paid days per year? See the results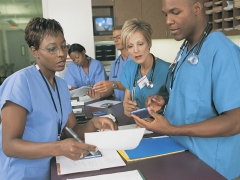 The results are in. After 102 responses, our In the Loop poll has found that a majority of members believe employees should receive seven paid days of personal emergency leave (PEL) per year.
Yes - 82.8 per cent
No – 15.8 per cent
Unsure – 2 per cent
On June 1, 2017, the Minister of Labour, Kevin Flynn, introduced Bill 148, Fair Workplaces, Better Jobs Act, that proposes amendments to provincial workplace laws. Included in the legislation are provisions to increase vacation days, expand PEL to ten days with two paid days for all workers and raise the minimum wage to $15/hour by 2019.
In response, RNAO prepared a submission calling for PEL to be increased from two to seven paid days to support the health of individual workers and their families, improve productivity and lessen transmission of communicable disease in public spaces. In addition, expanding PEL for all workers, not just employees of employers who regularly employ 50 or more employees.
Read our submission to learn more about our workplace recommendations
To show your support for our recommendations, please consider writing a letter to the editor of your local newspaper. RNAO tips on media strategies and letters to the editor may be found here.