Season's Greetings: Thank you for the work you do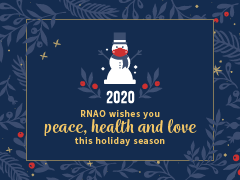 The holiday season will look and feel a lot different this year than ones we have celebrated in the past.
As 2020 – the Year of the Nurse – winds down, we want to thank each and every one of you for making us and Canadians proud.
You have worked day and night nursing Ontarians in need, supporting nursing colleagues and nursing students, and/or engaging with the government and other officials during the COVID-19 pandemic. We have joined in solidarity to fight this unrelenting virus with every ounce of our strength and expertise – and will continue to do so until it is conquered.
Nurses' tireless efforts have meant time away from family and loved ones.
Many of you will be working through the holidays.
Still, let us reflect on the sacrifices and the difference nurses have made in people's lives and for the province.
Please take some time to enjoy the season with those closest to you in your household.
Please be safe. And stay healthy. #TogetherWeCanDoIt
Please note that RNAO's home office will close on Dec. 24, 2020 at 2 p.m. ET and reopen on Jan. 4, 2021 at 8:30 a.m. ET.
For questions about professional liability protection (PLP) and requests for certificates of insurance during the holidays, please contact Roberta Tasson of The Magnes Group, RNAO's PLP insurance broker at 416-315-9589 or rtasson@magnesgroup.com.