Schools to reopen in September with 500 additional public health nurses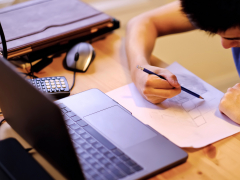 The Ontario government announced on July 30 schools will be reopening for in-class instruction beginning this September along with a plan to prioritize the health and safety of students and staff.
Elementary schools (Kindergarten to Grade 8) will reopen province-wide, with in-class instruction five days a week. Secondary schools with lower risk will reopen with a normal daily schedule, five days a week, while most secondary schools will start the school year in an adapted model of part-time attendance with class cohorts up to 15 students alternating between attending in-person and online. Students from Grade 4-12 and school staff will be required to wear masks.
The government will also hire 500 additional public health nurses who will provide rapid-response support to schools and boards in facilitating preventative measures, including screening, testing, tracing and mitigation strategies.
RNAO applauded this announcement and communicated its expectation that these positions be embedded within local public health units. These public health nurses will be central to: educating, teaching, training, facilitating, interpreting and communicating COVID-19 related public health measures and information to students, parents and teachers. In addition, we see these nurses aiding with surveillance of children and youth health -- especially given the months of lock-down and the re-opening under unique circumstances (i.e., physical distancing, wearing of masks, etc.). They will be a voice of expertise, constant problem solving and stability -- in what is otherwise uncertain times with lots of unpredictability -- as we have mixed and very difficult experiences from other countries and none from ours. As stipulated in public health standards, all public health nurses hired should be RNs with a Bachelor's degree in nursing.
For more information about the government's announcement, please go to the Ontario newsroom.