Save the date: NP Institute takes place on April 28-30, 2020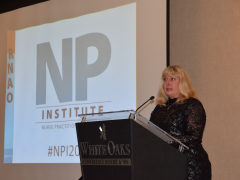 Mark your calendar.
The NP Institute will be taking place on April 28-30, 2020. Network with other NPs, learn from experts and enjoy the beautiful setting of Niagara-on-the-Lake. During this year's event, we will explore topics related to clinical practice, leadership, policy and research. The objectives for the event include:
exchange knowledge and expertise on clinical and client care issues of relevance to NP practice
facilitate sharing of NP research and quality improvement (QI) activities
build leadership and advocacy skills to drive meaningful policy and practice changes
identify opportunities and next steps to enable and advance full NP utilization within Ontario's health system
Stay tuned for registration details, a draft agenda and opportunities to share your NP research and QI initiatives.