RNAO wins Best Poster Award at Toronto conference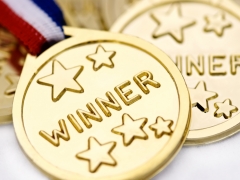 RNAO is making waves in the research community.
At the 2018 Trauma Talks Conference at Women's College Hospital in Toronto, RNAO won the Best Poster Award 2018 after submitting a research poster titled Crisis Interventions using Trauma-Informed Approach: Best Practice Guideline Development & Findings.
The poster provides an overview of the third edition of the Crisis Intervention best practice guideline development steps and some of its key recommendations including using brief intervention approaches and collaborating with persons experiencing a crisis to create a crisis plan.
Congratulations to RNAO's outstanding research and guideline development team: Nafsin Nizum, guideline development Co-lead; Sabrina Merali, guideline development co-lead; Laura Ferreira-Legere, former senior nursing research associate; Zainab Lulat, senior nursing research associate; and Lucia Costantini, associate director of guideline development research & evaluation.