RNAO supports police training for naloxone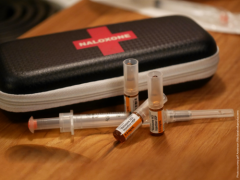 To ensure better outcomes for people suffering an overdose, Mississauga Centre MPP and RNAO member Natalia Kusendova tabled her first private members' bill to make it mandatory for Ontario police officers, special constables, First Nations officers and inspectors to be trained in administering naloxone.
Naloxone can temporarily reverse the effects of an opioid overdose. Its effects are proven to work within four minutes and allow additional time for emergency services to arrive on scene.
On May 16, Kusendova was joined by RNAO CEO Doris Grinspun during a media conference to support the bill. Grinspun also urged the province to ensure we fund access to supervised consumption centers in all communities in need.
In Ontario, 1,265 people died from an opioid overdose in 2017, an increase from 2016 when 867 people died. The first six months of 2018 had 629 deaths reported.
To learn more about the media conference, please read CBC's coverage as well as City News.