RNAO supports democracy at Queen's Park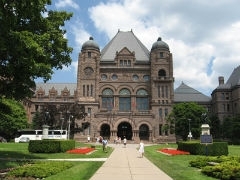 Earlier this month, the Ontario government introduced legislation to slash the size of Toronto city council by half before the October election, going from 47 councillors to 25.
On Aug. 14, the Ontario government passed the Better Local Government Act, also known as Bill 5, despite receiving no support from the opposition parties.
The move was made without any discussion or consultation with voters.
In response, RNAO members attended Question Period at Queen's Park on Aug. 2 to send a strong message to government about the importance of a democratic process.
RNAO believes changes of this magnitude should be put forth to voters and stands with members committed to democracy.
If you'd like to have your voice heard, RNAO encourages you to become politically involved by writing a letter to the editor or speaking out on social media. For more tips, please refer to RNAO's Taking Action Political Action Toolkit.