RNAO statement on government's move to cancel basic income guarantee and roll back increases in social assistance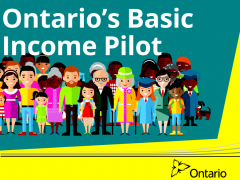 "Ontario's nurses are shocked by our new government's decision to reduce by half the planned three per cent increases in social assistance rates. The direct link between poverty and illness cannot be ignored. Social assistance rates are already dangerously low – leaving people struggling to put food on the table and a roof over their heads. More than 900,000 people relying on Ontario Works and the Ontario Disability Support Program will be affected by this unfair decision, which is being taken with no consultation.
Nurses are also alarmed of the government's decision to cancel the basic income guarantee pilot project. Stopping the basic income pilot without any evidence on the results is irresponsible and devastating for the almost 4,000 participants.
RNAO calls on Premier Ford to reverse these actions, which do not reflect a government acting for the people.