RNAO stands together with our Black sisters and brothers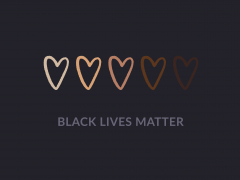 RNAO mourns the death of George Floyd and all those who have succumbed to anti-Black racism and violence. RNAO stands together with sisters and brothers who continue to suffer the scourge of anti-Black racism and discrimination everywhere. RNAO unequivocally condemns racism, oppression and discrimination in all forms. That's why we issued a statement in response to the protest marches and rallies organized to honour his life and the many other Black lives that matter.
In light of recent atrocities in the United States, Canada and around the world, we stand in solidarity with the loved ones of those who have suffered at the hands of law enforcement and those who experience gross inequities because of the colour of their skin.
RNAO first drafted a policy statement on racism in 2002 to make it clear that racism excludes people from decision-making processes and leadership and economic opportunities, marginalizing and oppressing them. RNAO reinforces its position that no sector is immune to the ingrained effects of racism – including health care. Nursing has a history of excluding women of colour, who could not even enter nursing school in Canada until the 1940s.
RNAO marked a milestone when Dr. Jocelyn Hezekiah, a leader in nursing education, became RNAO's first Black president (1979-1981). In 2003, she authored Breaking the Glass Ceiling: The Stories of Three Caribbean Nurses, a book showcasing how these nursing leaders paved the way for Black nurses to be recognized in their own right in the Caribbean and internationally. RNAO has had two Black presidents in its history: Joan Lesmond who led RNAO from 2004-2006 and Angela Cooper Brathwaite from 2018-2020.
Despite the fact we have had three Black presidents, RNAO recognizes that racism is systemic in our society and endemic in our institutions. That's why the association has launched a task force to tackle anti-Black racism within the nursing profession. The task force will be co-chaired by RNAO immediate past-president Angela Cooper Brathwaite and Chantal Sorhaindo, an NP at Toronto's St. Michael's Hospital. Members of RNAO have an opportunity to be part of this task force. If you are interested in joining, please apply online by July 8, 2020 at 12 p.m. (ET) .