RNAO response to residential school unmarked graves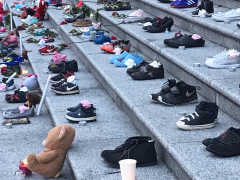 In recent weeks, unmarked graves of more than 1,000 Indigenous children have been uncovered on the grounds of residential schools. RNAO stands with the Indigenous people of this land in mourning the lives lost and recognizes and shares the enormous and enduring pain caused by the residential school system. We will continue to stand with and listen to the Indigenous peoples of this land as the truth of Canada's history is told by the survivors of the residential school and as the truth of this history is revealed by these recent findings and those still to come.
RNAO acknowledges these grave sites as confirmation that the genocide of Indigenous peoples and culture was used as a means of colonizing this land we call Canada. We acknowledge that this isn't just our history but it is also our present. The colonization of this land has taken from Indigenous peoples ways of life, ways of knowing, ways of healing and had a destructive impact on the education, culture and languages, justice systems and wellbeing of Indigenous peoples. RNAO acknowledges that the profession of nursing, and abusive treatment of Indigenous peoples by nurses, is part of this history. For this, we apologize.
The report of the Truth and Reconciliation Commission called on all Canadians to demonstrate the courage and determination of residential school survivors in our commitment to reconciliation. RNAO will continue its efforts to build a respectful relationship with the Indigenous peoples of this land so that we can, in the words of the authors of the report, "restore what must be restored, repair what must be repaired, and return what must be returned." In doing so, we commit to abide by the principles of truth and reconciliation as laid out in the report as we strive to create a more equitable and inclusive society by closing the gaps in social, health, and economic outcomes.