RNAO responds to updated COVID-19 projections from April 20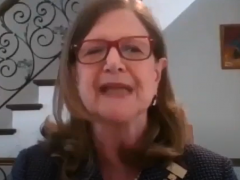 In response to the province's updated projections released on April 20, RNAO CEO Doris Grinspun held a press conference the same day, to speak about how the outbreak is affecting people in congregate settings.
While the rate of growth in COVID-19 hospitalizations has slowed, she said the number of deaths due to COVID-19 is alarming and needs immediate attention.
"The outbreaks in nursing homes continue to increase…almost 50 per cent of lose lives are lives of residents in LTC homes," said Grinspun, adding that many LTC homes still lack adequate access to PPE.
More attention must also be placed on other vulnerable populations such as those experiencing homelessness, individuals in correctional facilities and Indigenous communities.
"We can't wait until they have an outbreak in these communities. We must ensure they have, on site, the basics: universal use of surgical masks so we can prevent transmission," said Grinspun, during the media conference.
More needs to be done with testing as well. RNAO calls on the premier to ramp up testing and ensure there is universal testing in all shelters, the Indigenous communities, LTC and corrections.
On April 22, the premier made a request for help from the Canadian military to stop the spread of COVID-19 in five long-term care facilities in the province. On April 23, the federal government approved the request. Military are now assisting with administrative duties, freeing up nurses and PSWs to focus on patient care. In media interviews following the announcement, RNAO CEO Doris Grinspun said the province has plenty of nurses who can be deployed from RNAO's VIANurse program and they would be in a better position to help. To learn more, please read the National Observer article.