RNAO responds to Long-Term Care Staffing Study Report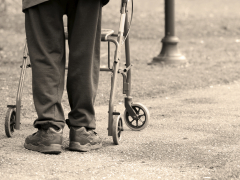 A long-awaited report on regulated staffing levels in Ontario long-term care (LTC) homes was released on July 30 by the Ontario government.
The Long-Term Care Staffing Study Report provides recommendations within five priority areas to improve staffing across the sector:
The number of staff working in long-term care needs to increase and more funding will be required to achieve that goal.
- minimum daily average of four worked hours of direct care per resident
The culture of long-term care needs to change – at both the system and individual home level.
Workload and working conditions must get better, to retain staff and improve the conditions for care.
Excellence in long-term care requires effective leadership and access to specialized expertise.
- ensuring access to strong Infection Prevention and Control expertise
- expanding the use of NPs
Attract and prepare the right people for employment in long-term care, and provide opportunities for learning and growth.
In addition, the report will inform the development of a comprehensive staffing strategy to be released later this year.
Although the government provides a comprehensive and excellent report, RNAO says that there is nothing that has not already been discussed before and what is now urgently needed is action.
RNAO urges the Minister of Long-Term Care Merrilee Fullerton to immediately direct nursing homes to hire personal support workers, registered nurses, registered practical nurses and nurse practitioners ahead of the second wave of COVID-19, which will coincide with the coming influenza season. Doing otherwise will risk a second major tragedy!
The need for immediate action is outlined in RNAO's Nursing Home Basic Care Guarantee (NHBCG) submission to the government's Long-Term Care Staffing Study Advisory Group, which was struck by Minister Fullerton in response to the public inquiry on LTC homes and that issued its recommendations on July 31, 2019. The guarantee calls for a minimum of four hours of nursing and personal care to be allocated as follows: 0.8 hours (48 minutes) of RN care per resident, per day; 1 hour (60 minutes) of RPN care, per resident, per day and 2.2 hours (132 minutes) of PSW care per resident, per day. Each home should also have one NP for every 120 residents and a full-time registered nurse specializing in infection prevention and control.
For more information about our response to the Long-Term Care Staffing Study Report, please read our media release.
On July 29, the Ontario government also announced the launch of an independent commission to investigate how COVID-19 spread within long-term care homes. The commission is chaired by Ontario Superior Court Associate Chief Justice Frank Marrocco who served as the province's lead counsel during the Walkerton tainted water inquiry 20 years ago. Two other members of the commission are former senior executive of the Ontario Public Service (OPS) Angela Coke and former president and CEO of the Ottawa Hospital Dr. Jack Kitts. The independent commission is expected to report its findings by April 30, 2021.
However, next spring is too late says RNAO, which is urging the government not to wait for the independent commission to act and make changes to long-term care now. As stated by RNAO CEO Doris Grinspun in an op-ed to The Globe and Mail: "As we prepare for the second wave, we must change course. We must start with nursing homes as these house the Ontarians who have suffered the most. We must then focus on primary care and home care. We need these sectors to be ready to care for people in their communities, especially vulnerable populations. Let's get on with the task so we can all feel proud again, with the knowledge that we have learned from our mistakes".

So far, more than 7,000 have signed our call to the Ontario government to make changes in long-term care. Please sign our action alert and share it with others to have the government act right away.
To learn more about the growing support for our NHBCG, please read our media release.