RNAO responds to the federal budget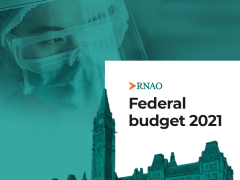 The federal government's budget contains progressive measures that address social determinants of health, however, it does not move fast enough on national standards for long-term care (LTC) and offers no progress for a national pharmacare program.
As noted in the federal budget, released on April 19, the government will move to establish a federal minimum wage of $15 per hour, rising with inflation, with provisions to ensure that where provincial or territorial minimum wages are higher, that wage will prevail. For a long time, RNAO has advocated for a $15 minimum wage to ensure families are not living in poverty and its devastating consequences.
RNAO also praised Ottawa's promises to invest up to $30 billion over the next five years and $8.3 billion ongoingly for early learning and child care and Indigenous early learning and child care. In addition, RNAO was pleased the government's $6 billion five-year commitment to Indigenous communities for infrastructure projects for clean water, housing and other projects. RNAO also commends the investments in affordable housing, but would like to see faster and higher amounts for "Reaching Home", the federal government's homelessness strategy.
When it comes to LTC, RNAO is pleased to see $3 billion dedicated to improving the lives of residents, over five years, starting in 2022-23, however, the goal was for immediate investment. More than 15,000 LTC residents have died of COVID-19 across Canada and change is needed now. RNAO will actively contribute to the Health Standards Organization and Canadian Standards Association on development of national standards to improve the quality of life in LTC. RNAO will also continue to call on the Ontario government to implement the association's Nursing Home Basic Care Guarantee, which models a minimum of four worked hours of direct nursing and personal care for each resident per day.
RNAO is disappointed that the budget failed to outline next steps and new funding for the government's long promised national pharmacare program. Access to medicine is a human right and every developed country in the world with universal health-care coverage includes pharmacare. That's why RNAO continues to urge the government to do better on advancing a pharmacare program across the country.
For more information about our response to the federal budget, please read our media release.