RNAO releases groundbreaking report, ECCO 3.0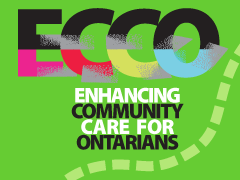 Building robust community care and anchoring our health system in primary care are important priorities that we must think about ahead of a potential second or third wave of COVID-19.
That's why on May 12, RNAO president Angela Cooper Brathwaite, president-elect Morgan Hoffarth and CEO Doris Grinspun released RNAO's groundbreaking report Enhancing Community Care for Ontario (ECCO 3.0) in a virtual media conference via Zoom.
The report provides clear direction to enhance community care for Ontarians within a strong primary care infrastructure and strategically aligns with the 2019 Ontario government's plans to reshape our health system.
In the report, readers will find a set of 13 recommendations to the government including expanding reach and access to primary care and linking all Ontarians to a primary care team; establishing approaches to care that are person-centred and focus on health promotion and disease prevention, equity and community engagement and ensuring all primary care is provided through an interprofessional team-based model.
The report builds on its previous versions ECCO 1.0, released in 2012 and ECCO 2.0, released in 2014.
Access the full report online.