RNAO releases annual report focusing on mobilization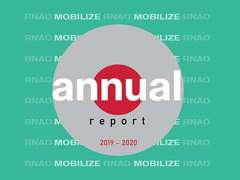 Over the past year, RNAO's voice has been stronger than ever before.
Proof of that is laid out in words, pictures and graphics in RNAO's annual report. Released during the AGM, the report builds on the theme of mobilization and is divided into five pillars: voice, powering, practice excellence, partnerships and collective identity. The report explores what each means, and how they link together in highlighting RNAO's work over the past year.
RNAO would like to thank all members for their outstanding contributions and their unwavering commitment to Ontarians, to one another and to the association.
Read the full report online.