RNAO to release 2018 provincial election platform on Feb. 22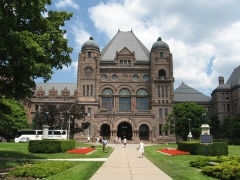 With a provincial election less than four months away, voters will soon be making an important decision about Ontario's future.
Nurses represent the largest and most trusted group of health professionals in Ontario; and you play a central role in the health of individuals and communities.
To ensure the voices of RNs, NPs and nursing students are being heard, RNAO is releasing its provincial election platform with policy priorities geared towards improving health for all on Feb. 22.
Recommendations cover key areas such as improving access to nursing care and health system transformation, improving standards of living, creating a cleaner environment and improving the province's fiscal capacity. See media advisory.
RNAO President Carol Timmings and CEO Doris Grinspun will unveil the platform during a media conference during RNAO's 18th-annual Queen's Park Day. To learn more, please follow us on Twitter and Facebook.