RNAO Recognition Awards nominations now open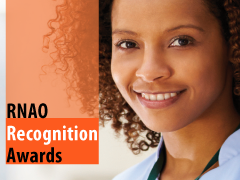 The RNAO Recognition Awards are presented annually to recognize individuals and groups that make significant contributions to RNAO's mandate of speaking out for nursing and speaking out for health.
To honour these individuals and groups, consider nominating a colleague, yourself or your organization for one of RNAO's prestigious Recognition Awards.
The deadline for nominations is Feb. 19, 2021.
Learn more about the Recognition Awards here.