RNAO pushes for RNs to continue to initiate psychotherapy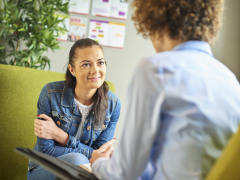 RNAO is proud of our members that have initiated and delivered expert, safe, and compassionate psychotherapy services over the years and even decades.
That's why RNAO appreciates the College of Nurses of Ontario's (CNO) Council decision to circulate the draft regulation for feedback. If approved by government, the draft regulation would enable the independent initiation of the controlled act of psychotherapy.
Increasing access to nurses who are qualified to practise the controlled act of psychotherapy has the potential to help in the recovery of many individuals, families, and communities that are currently in distress.
In addition to passing the draft regulation, RNAO along with the Mental Health Nursing Interest Group is urging the CNO to provide practice standards, guidelines, and tools equivalent to the other regulatory colleges whose members practise psychotherapy.
This would provide clarity to novice nurses who are seeking direction in pathways to provide psychotherapy services, enhance public safety, and provide a common, congruent approach to this vital service.
RNAO and MHNIG members who are experienced in the practice of psychotherapy reiterate a strong desire and willingness to work with CNO on this file.
For more information, please read our letter to CNO.
Thank you to all the members who posted feedback to the CNO on psychotherapy and responded to our action alert.