RNAO presents pre-budget recommendations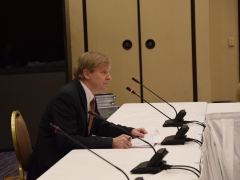 Delivering our message for better health care for all Ontarians, RNAO presented its pre-budget submission to the Standing Committee on Finance and Economic Affairs on Jan. 19 at the Courtyard Marriott Hotel and Conference Centre in Brampton.
This year, RNAO's Interim Acting Director of Nursing and Health Policy Kim Jarvi spoke to political leaders about important health-care initiatives to include in the 2017 budget such as publicly funding offloading devices for persons with diabetes that would save a large number of Ontarians from devastating and preventable amputations, and save the government millions of dollars.
Jarvi also spoke about improving the efficiency of the health system by expanding the capacity of the province's 25 nurse practitioner-led clinics, 75 community health centres, 10 aboriginal health access centres, and 186 family health teams so more people can get faster access to services.
For more information, please read our media advisory and speaking notes.