RNAO participates in Toronto's Vigil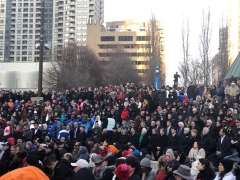 In honour of the lives lost and those injured, thousands of people gathered in Mel Lastman Square in north Toronto on April 29 for a vigil.
The interfaith ceremony included messages of support and strength from leaders in the Muslim, Hindu, Jewish, Buddhist and Christian religious communities. There were also performances from several choirs and groups such as the Red Spirit Singers, the Toronto Jewish Chorus, the Willowdale Community Choir and many more.
In attendance were also political leaders such as Prime Minister Justin Trudeau, Governor General Julie Payette and Mayor John Tory.
RNAO CEO Doris Grinspun also attended, sharing her support for all affected by the tragedy.
"Such an unimaginable tragedy driven by hatred. Yet, such a deep sense of community driven by love. This is our Canada, our Ontario & our Toronto. We leave inspired because we know that together #TorontoStrong," said Grinspun on Twitter.