RNAO, OMA and OPA statement on the use of hydroxychloroquine and azithromycin for COVID-19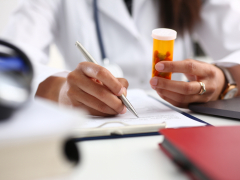 As frontline health-care professionals, you may be aware there has been significant mention in both social media and on the Internet on the use of certain anti-malarial antibiotic and antiviral therapies in the treatment of COVID-19 patients.
In particular, the latest information involves a combination of two medications – hydroxychloroquine sulfate (brand name Plaquenil) and azithromycin (brand name Zithromax). These medications are being prescribed in odd doses and quantities, with an off-label and unsubstantiated indication of "COVID-19 prophylaxis or treatment".
We have an obligation and duty to educate our patients that any treatment – particularly for COVID-19 needs to be evidence-based. At this time, there is a serious lack of evidence that categorically supports the widespread use of hydroxychloroquine and azithromycin. Equally important are the significant potential contraindications, adverse effects and drug interactions between the two drugs.
Nurse practitioners, nurses, doctors and pharmacists alike are all hopeful for an end to the deadly COVID-19 pandemic, and we are collectively confident that effective treatments will emerge soon. But, as evidence-based clinicians, we must be diligent in our efforts not to let blind hope drive our decisions.
Please read the full joint statement issued March 23 by RNAO, the Ontario Medical Association and the Ontario Pharmacists Association.