RNAO observes Black August and urges others to join #BlackLivesMatter movement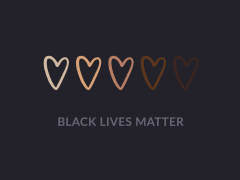 As professionals bound by moral and ethical obligations, nurses must denounce oppression and discrimination in all its forms. Nurses, can be, and are important allies for survivors of anti-Black racism, underserviced and vulnerable populations in their fight for social justice.
In August RNAO observed Black August, a month to reflect and learn about the legacies of Black revolutionaries and honour the lives of those who were killed or imprisoned for simply defending their freedoms. Black August originated in California's prisons in the 1970s after the deaths of brothers Jonathan and George Jackson. 50 years later, we still are witnessing the violent and brutal murders of innocent Black lives around the world.
We implore all RNAO members and the public to join the #BlackLivesMatter movement as we courageously pursue the freedom, justice and equal opportunities for Black people – including nurses at home and around the world.
Since June, RNAO's Black Nurses Task Force has been leading a webinar series entitled "Let's Talk about Anti-Black Racism and Discrimination in Nursing". These are facilitated by the task force's co-chairs Dr Angela Cooper Brathwaite and NP Corsita Garraway.
So far, the webinars have been attended by hundreds of nurses and members of the public. On July 20, the second webinar of the series focused on introducing RNAO's Black Nurses Task Force and sharing of personal experiences. On Aug. 17, participants in the third webinar discussed anti-Black racism in the education system. Access the presentation slides for these webinars online.
We encourage you to join us for the fourth installment in the series on Sept. 21. Learn more and register for the webinar online.