RNAO mourns the loss of Past-President Wendy Gerhard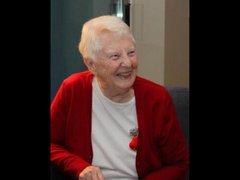 Our hearts are heavy as we share the news that Past-President Wendy Gerhard died of cancer on Sept. 10 at St. John Hospice in Vancouver. Wendy served as RNAO's president from 1973 – 1975.
As a registered nurse, Wendy was an active member of RNAO and was involved in several interest groups and initiatives. In the March/April 2008 issue of RNJ, then incoming President Wendy Fucile spoke about being taught by Wendy at Western University. "She taught us that it was functionally impossible to be a nurse if you were not involved in your professional association," Wendy F. said about Wendy G.
We thank Wendy for her contributions to RNAO and the nursing profession, and send our deepest condolences to Wendy's husband, John Gerhard, as well as to the rest of her family and friends.
Read Wendy's obituary in The Vancouver Sun.