RNAO meets with members of Ontario's Long-Term Care COVID-19 commission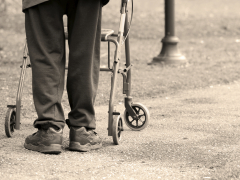 Top members of RNAO had for a second time a a two-hour audience with the independent commission looking into long-term care and the spread of COVID-19 in Ontario nursing homes.

The first meeting took place with commission staff on Sept. 14 and on Sept. 29 for the second meeting, RNAO met with Associate Chief Justice Frank Marrocco and fellow commissioners Angela Coke and Dr. Jack Kitts. They heard first-hand from RNAO CEO Doris Grinspun, the factors that resulted in widespread infection and the deaths of more than 1,800 residents. Grinspun was joined by President Morgan Hoffarth, Immediate Past-President Dr. Angela Cooper Brathwaite, Interest Groups' representative Julie Rubel and senior RNAO staff.

Over the course of the meeting, Grinspun detailed the actions RNAO has taken to highlight systemic failures, which have plagued the sector and been ignored by successive governments and how left unchecked, exacerbated conditions in homes resulting in widespread infection and hundreds of outbreaks across the province. During her presentation, Grinspun outlined a series of reports RNAO released this year, which offer solutions. Most notably, the Nursing Home Basic Care Guarantee, designed to address chronic staffing shortages and the need for more regulated health professionals, including RNs and NPs. In addition, the importance of families being able to visit their loved ones in long-term care homes including those in a COVID-19 outbreak. In our five-step process for reuniting families during COVID-19, we note that access to foundational person- and family-centred care is vital to residents' quality of life.
At the end of the presentation, Justice Marrocco thanked RNAO for providing a much needed new perspective that will inform their examination of the sector and reflect the needs of residents.
Grinspun urged the commissioners not to wait until April 30 to issue their report. She said releasing an interim report is essential to ensure the commission's work is not in vain and its recommendations are out in time to address challenges facing the sector, and their impact on residents, families and staff. For the full transcript on RNAO's presentation, see here.