RNAO leads dozens of organization in candlelight vigil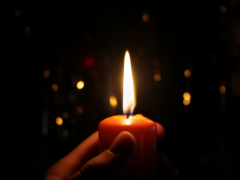 March 11 marked the one-year anniversary since the World Health Organization declared COVID-19 a global pandemic. It was a day to reflect on the tragedy that rippled across the globe. It was also a day of hope as vaccinations advance and we prepare to navigate our way out of this disaster.
In honour of those who have died from the virus, RNAO held a virtual tribute event and candlelight vigil with the support of more than 30 health organizations. The tribute event included a poem reading by Canada's parliamentary poet laureate Louise Bernice Halfe – Sky Dancer – who read the emotional and reflective poem entitled "Fasting and Feasting".
Following the poetry reading at 7 p.m., participants took a few moments to pause and light a candle to remember the lives, smiles, moments, days and hugs we lost this past year. As a sign of remembrance, many lit a candle and shared their tributes online using the hashtags #Candle4COVID and #TogetherWeCanDoIt.
Among them were Ontario's Ministry of Health, Minister of Health Christine Elliott and Minister of Long-Term Care Merrilee Fullerton who joined RNAO in recognizing the anniversary.
The tribute was part of RNAO's #TogetherWeCanDoIt campaign, which was launched on March 19, 2020 with our #Cheer4HealthWorkers initiative.
To learn more about our tribute event and candlelight vigil, please see the following news stories with RNAO CEO Doris Grinspun interviewed: