RNAO leader inducted into American Academy of Nursing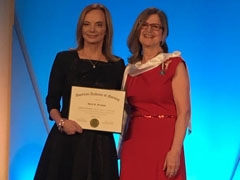 RNAO left a lasting impression with nurses around the world in November as one of its top nursing leaders was inducted into the American Academy of Nursing.
RNAO CEO Doris Grinspun was one of five Canadians inducted into the 2018 class of Academy fellows during a Nov. 3 ceremony at the academy's annual policy conference in Washington, D.C.
The academy is made up of 2,500 fellows who are world recognized nursing leaders in education, management, practice, research and policy; they serve the public and the nursing profession by advancing health policy.
Grinspun has been the CEO of RNAO since April 1996 and is the founder of RNAO's internationally renowned Best Practice Guidelines Program. She is a widely recognized policy expert who holds a masters in nursing from the University of Michigan and a PhD in sociology from York University.
To learn more, please read our media release.