RNAO hosts first virtual Champions workshop for BPSO OHT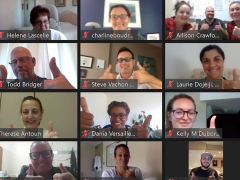 As part of the Best Practice Spotlight Organization program for Ontario Health Teams (BPSO OHT), RNAO hosted its first virtual Champions workshop.

The program works with OHTs to improve patient outcomes, patient experience, cost effectiveness and an improved patient experience.

Despite the challenges of COVID-19, the Ottawa East Health Team/Équipe Santé Ottawa Est — the fourth BPSO OHT of the inaugural cohort — recruited 54 brilliant and engaged champions to participate in the Champions training between Aug. 19-21.

During this virtual event, Champions learned foundational content, shared lived experiences highlighting the value of person-and family centred care (PFCC), and began to develop a powerful collective identity.

RNAO is inspired by these new BPSO OHT partners and are thrilled that they will have an opportunity to meet the three other BPSO OHT teams at an upcoming meet and greet event on Sept 10.