RNAO goes virtual to celebrate nurses' successes and challenges during Nursing Week - May 11 to 17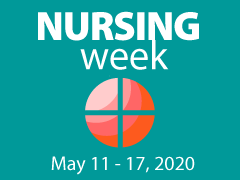 During a time when nurses are working tirelessly and selflessly through this COVID-19 pandemic, RNAO thanks each of you for keeping people healthy and caring for them when they are sick or dying. Your commitment to Ontarians is formidable in all you do!
RNAO marked the Year of the Nurse and the 200th anniversary of Florence Nightingale's birthday with a powerful Nursing Week celebrations (May 11 to 17). We had several events that recognized the expertise and excellence that RNs, NPs and nursing students bring to patients, families and communities across Ontario and beyond.
This year, RNAO kicked off a #NursingWeek2020 social media campaign that featured messages from members, RNAO staff and the public thanking a nurse or nurses who play an important role in their lives. To learn more, please see our Nursing Week Portal.
RNAO also launched its 20th-annual Take Your MPP To Work Live. To keep with the need for physical distancing, the association coordinated virtual visits via Zoom where political leaders were able to meet and speak with nurses. Topics included a better approach to long-term care and the opioid crisis. During Nursing Week, RNAO also released its third groundbreaking report Enhancing Community Care for Ontarians (ECCO 3.0), which provides clear direction on how to enhance community care for Ontarians within a strong primary care foundation. In addition, RNAO was pleased to take part in the presentation of the inaugural Nursing Now Ontario Awards where an NP, RN and RPN were honoured for their contributions made to nursing practice. Other events RNAO hosted included the release of RNAO's BPG Oral health: Supporting adults who require assistance, a special COVID-19 Webinar: Together We Can Do It for Nursing Week and the re-introduction to RNCareers.ca and Tips on Cover Letters & Resumes.
For more information about our Nursing Week events, please see our Nursing Week portal and media release.