RNAO CEO travels to Kingston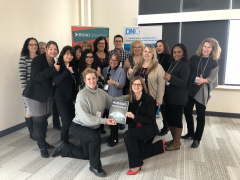 With Ontario's health system set to undergo significant reform, RNAO's CEO Doris Grinspun travelled to Kingston on March 7 and 8 to talk to nurses and nursing students about the impact evidence-based research is having on patients, nurses, and the organizations in which they work.
At the annual Nursing Research Conference, Grinspun shared how nurses across the province and the world are using RNAO's renowned best practice guidelines. Following the conference, Grinspun visited Kingston General Hospital, a Best Practice Spotlight Organization, and heard from nurses about how they are implementing RNAO's BPGs.
On March 8, she also attended a luncheon with nurse executives to discuss their achievements.
For more information about the Kingston visit, please read our media advisory and the Kingston Whig-Standard's article.