RNAO CEO receives COVID-19 Courage Award from American Academy of Nursing on Oct. 29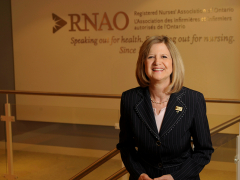 During the first day of the American Academy of Nursing's virtual 2020 policy conference, RNAO CEO Doris Grinspun was presented with the American Academy of Nursing's prestigious COVID-19 Courage Award in Policy.
The awards honour the incredible contributions nurses have made to save lives, advance health equity and protect communities during the COVID-19 pandemic. There was four awards for four different categories: policy, leadership, innovation and science.
For decades, Grinspun has been an effective policy expert, skillfully using evidence to influence policy decisions. She is in regular contact with the Ontario's premier and ministers – past and present – and other top officials. These relationships have been intensified even further as it relates to the government's COVID-19 response plan.
Well-known among the media, she is outspoken and sought after by journalists for her no-nonsense style and approach to health issues facing the province. Always concerned about vulnerable populations – especially residents in long-term care, their families and staff; people who experience homelessness and Indigenous communities – Grinspun has been an especially tireless champion for these groups during the pandemic.
"I am deeply moved by the selection committee's decision and I accept this award with the pride of knowing that our collective voice is making a difference. Our work isn't done and we remain in the midst of a relentless virus. This award emboldens me and our RNAO team to power our policy and advocacy forward in honour of those whose lives have been lost and those we must continue to support and protect from COVID-19," says Grinspun.
For Grinspun's bio, please see online. To hear what Doris had to say about the award, please see online (interview starts at 15:40).