RNAO CEO joins new action group to address staffing in long-term care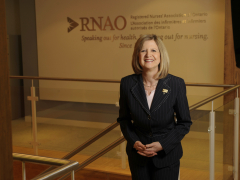 The Ontario government has established the Staffing Supply Accelerator Group to help implement a health-care recruitment and training program that will focus on increasing staffing in long-term care.
The group will support the objectives of A Better Place to Live, A better Place to Work: Ontario's Long-Term Care Staffing Plan such as increasing long-term care staffing levels by expanding and accelerating education and training for personal support workers, registered practical nurses and registered nurses.
Included in the group is RNAO CEO Dr. Doris Grinspun and several leaders of health-care organizations including Lisa Levin, CEO of AdvantAge Ontario; Donna Duncan, CEO of the Ontario Long-Term Care Association and Miranda Ferrier, CEO and Provincial President of the Ontario Personal Support Workers Association. In addition, political leaders such as Helen Angus, Deputy Minister, Ministry of Health; Richard Steele, deputy Minister, Ministry of Long-Term Care and Nancy Naylor, deputy minister, Ministry of Education.
The Staffing Supply Accelerator Group began meetings in March and will operate for at least one year. The group will be assessed by the Ontario government after the first six months and every six months following.
For more information, please read the government news release.