RNAO CEO to be inducted into American Academy of Nursing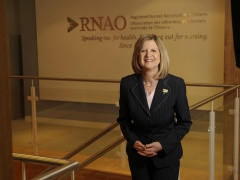 In recognition of her extraordinary nursing career and accomplishments within the nursing profession and health care, RNAO's CEO Doris Grinspun will be inducted into the American Academy of Nursing.
On Nov. 2, 2018 in Washington, D.C., Grinspun along with 194 highly distinguished nurse leaders from around the world will be inducted as fellows to the academy – joining a select 2,400 leaders which hold this distinction since inception of this "hall of fame" program.
The academy is governed by a 10-member board of directors, elected by the fellows. It serves the public and the nursing profession by advancing health policy, practice and science through organization excellence and effective nursing leadership.