RNAO CEO attends Salzburg Global Seminar program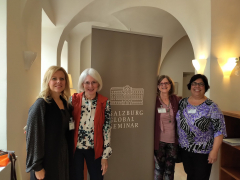 To improve patient safety, RNAO CEO Doris Grinspun joined other top health-care leaders from around the world for the Salzburg Global Seminar program on Moving Measurement into Action: Designing Global Principles for Measuring Patient Safety.
The five-day program in Austria brought senior leaders together to help shape new global principles for measuring patient safety by concentrating on patient-centeredness, pro-activity, continuum of care, geographical settings, evidence, technology and culture.
As part of the program, the leaders also heard from community health workers in developing countries.
The program's discussions, recommendations and global principles are expected to be publicized in a final report.
To learn more about the program, please go to the Salzburg Global Seminar.