RNAO celebrates nurses for protecting Ontarians and leading change during AGM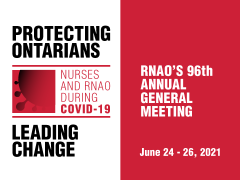 More than 800 registered nurses (RN), nurse practitioners (NP) nursing students, politicians, other guests and staff took part in RNAO's virtual 96th Annual General Meeting (AGM). The event, which took place June 24-26, celebrated the resilience and dedication of nurses who continue to be front and centre during the 17-month long pandemic.
The theme for this year's event, Protecting Ontarians and Leading Change: Nurses and RNAO during COVID-19, was featured prominently throughout festivities over the three-day event.
The event began with a traditional opening and travelling song by Elder Perry McLeod-Shabogesic of the N'biising (Nipissing) First Nation Crane Clan who took a moment to remember the residential school deaths uncovered over the recent weeks and the physical, mental and emotional trauma that has swept the Indigenous communities.
This year's AGM was hosted by the Ontario Nurses for the Environment Interest Group (ONEIG) who introduced the three-day AGM program. Victoria Ralph, executive member for ONEIG, greeted everyone: "This year's AGM is once again taking place in an especially important time as we turn the corner of this pandemic, we celebrate the triumphs we had and the trying times we've faced and persevered through," said Ralph.
Our strong influence was evident through speeches during the opening ceremonies. All top political leaders and nursing dignitaries including Christine Elliott, deputy premier and minister of health; Rod Phillips, minister of long-term care; Andrea Horwath, leader of the Official Opposition; Steven Del Duca, leader of the Ontario Liberal Party; Mike Schreiner, leader of the Green Party of Ontario; International nursing leaders Annette Kennedy, president of the International Council of Nurses and Dr. Richard Ricciardi, president of Sigma Theta Tau International Honor Society of Nursing shared greetings and praise for RNAO's work, as well as their thoughts about tackling the pandemic.
RNAO's opening ceremonies also marked the graduation of 21 Canadian and international Best Practice Spotlight Organizations (BPSO) that completed their three-year candidacy with RNAO. They demonstrated commitment and capacity to implement multiple best practice guidelines (BPG) and create an evidence-based culture – even during a pandemic. Congratulations to the designated BPSOs. We look forward to continuing and enriching work together. Please watch our celebration video.
On the second day, participants were treated to a presentation by the Nursing Students of Ontario (NSO) called Blazing New Trails as Student Leaders where presenters Megan Wood, vice president of NSO; Rachel Radyk, founder of RNAO's Indigenous Nurses and Allies Interest Group and Chantal Byrnes Leadbeater, policy and political action officer spoke about their personal leadership stories.
During the evening portion of the second day of the AGM, RNAO CEO Dr. Doris Grinspun shared her CEO report. She reflected on the added trauma that is sweeping Indigenous brothers and sisters as unmarked graves of residential school children are uncovered. She recommitted to use the power of RNAO to walk side by side in the fight to bring these children to rest in peace with their families.
Grinspun also introduced past leaders who shined the way for nurses: Charlotte Edith Anderson (first Native Canadian RN), Mary Seacole (British Jamaican nurse), Harriet Tubman (American abolitionist and political activist) and Florence Nightingale (founder of modern nursing). She reflected on how nurses and RNAO's response to the pandemic also sought, the same as those past leaders, to protect, support, inform and advocate for their communities. These are the four pillars of our COVID-19 response. She reminded attendees that already in January 2020 – before the pandemic was declared – RNAO was already urging a precautionary approach to public health measures. We protected and served Ontarians by launching VIANurse. We supported nurses and the public through webinars and social movements such as #TogetherWeCanDoIt and #Maskathon. We kept nurses and other health professionals informed through our official COVID-19 portal, RNAO CEO Doris Grinspun's blog that reaches more than 300,000 readers in Canada and abroad, and 6,879 media interviews since the start of the pandemic. And finally, we advocated for at-risk populations.
Alongside RNAO's pandemic work to protect Ontarians and nurses, we continued to lead change. We brought policy initiatives for vulnerable populations such as long-term care residents and persons affected by the opioids crisis who were greatly impacted by the pandemic. We expanded the BPG program with three new BPGs, 21 graduating BPSOs and launching new BPSO/BPSO OHTs at home and abroad. We are immensely proud of our work with Indigenous communities developing Indigenous-led BPGs and BPSOs. Such advances are due to the work of RNAO's formidable staff. Our CEO closed her CEO report to members with important announcements:
- a new care centre & RNAO mentorship program
- an NP Research Chair
- RNAO uniforms
- RNAO's 2020-2021 annual report
Following the CEO report, Ontario Premier Doug Ford addressed participants and thanked RNAO and members for their hard work during the pandemic and noted the government's ongoing commitment to add more nurses to the health-care system and increase enrollment in nursing programs.
Throughout the AGM, outstanding RNAO members and other health-care providers were also honoured with Recognition Awards while top health-care journalists were recognized during our annual Media Awards ceremony. During the business portion of the AGM, results of One member, one vote were revealed and Claudette Holloway was voted in as president-elect. Here is the full list of RNAO's board of directors for 2021-2022. In addition, 16 resolutions by members were carried during the AGM with topics from integrating a strategy to address substance use disorder to including the voice of First Nations, Inuit and Metis peoples when teaching nurses and providing care. The second day of the AGM also closed with the president's report by Morgan Hoffarth who shared how RNAO has been at the forefront in media and at advisory tables and has been able to connect with members across the province virtually.
The three-day event ended with the release of RNAO's newest BPG Promoting 2SLGBTQI+ Health Equity, a position statement on respecting sexually and gender diverse communities and a closing keynote panel entitled Protecting Ontarians and leading change: The COVID-19 pandemic as viewed through the eyes and experiences of nurses. The keynote panel, moderated by our CEO, included Dr. Leigh Chapman, director of Clinical Services, Inner City Health Associates; Birgit Umaigba, ICU/ER RN; Dr. Michael Scarcello, program coordinator, Confederation College; Wendy Dunn, NP at Greenwood Court Long-Term Care Home; Shirlee Sharkey, chief executive officer of SE Health; Jennifer Vickers-Manzin, chief nursing officer and director Healthy Families, City of Hamilton; and Rodolfo D. Lastimosa Jr., former president of RNAO's Nursing Students of Ontario.
We were honoured to have Elder Perry McLeod-Shabogesic join us again to provide closing remarks following the keynote panel. "I look to the pandemic as a fast…to help ground us, reconnect us, and bring our spirit and consciousness back together again," Mcleod-Shabogesic shared.
See photos and video highlights in our AGM portal.
For an overview of RNAO's achievements in the last year, please read our annual report online.