Thousands protest for climate justice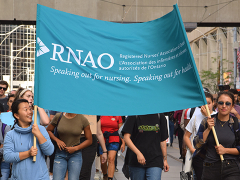 Thousands across the country are speaking out for climate change.
As part of the #ClimateStrike happening globally, people in dozens of cities across Canada between Sept. 20-27 called on politicians and decision-makers to take action on climate change.
In Toronto, youth and adults came out to Queen's Park with signs and posters to strike in solidarity for climate justice. RNAO members also took part in the rally and march, waving the RNAO banner and letting people know the public's health depends on a clean and safe environment.
Earlier this month, RNAO released its federal election platform with a call to the federal government to develop and implement a comprehensive climate action plan.
We urge members to talk to your family, friends and colleagues about climate change, participate in action and make your voice heard. Also, follow us on Facebook and Twitter to see the different posts/tweets we are sending to political leaders about climate change.

Check out some of our tweets below:

Also joining us today for #climatestrikeTO is RNAO member Elaine Wang. She says "if children can do it, so can I" referring to the rally and march. #ClimateAction #ClimateChange @DorisGrinspun @angelacooperbra @MorganHoffarth https://t.co/toyYGl12Pq
(https://twitter.com/RNAO/status/1177643264318554114?s=09)
Our kids and grandkids deserve better! Politicians you are on notice: Time to show real leadership,Act now! @JustinTrudeau @AndrewScheer @theJagmeetSingh @ElizabethMay @fordnation @AndreaHorwath @JohnFraserOS @MikeSchreiner @theresaboyle @picardonhealth @NursingNow2020 @DrTedros https://t.co/UFNb7toCLc
(https://twitter.com/DorisGrinspun/status/1177663913690877958?s=09)