RNAO calls on government to make changes in long-term care by July 31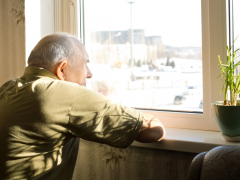 To prepare for a second wave of COVID-19, RNAO is calling on the Ontario government to announce a plan that address the significant changes necessary in long-term care (LTC) by July 31. That's the date Justice Eileen Gillese gave the government to table a study looking into the adequacy of regulated staffing levels in LTC. It was one of the key recommendations in her public inquiry report looking into LTC homes.
In June, RNAO compiled dozens of recommendations in the areas of staffing and funding made in 35 reports, including the Gillese inquiry report and a coroner's inquest looking into the problems in LTC over the past 21 years. Following that release, the association called on the government to implement a Nursing Home Basic Care Guarantee, which outlines the staffing and funding levels needed in LTC homes to ensure residents receive safe care and quality of life. The guarantee calls for a minimum of four hours of nursing and personal care, which would be allocated as follows: 0.8 hours (48 minutes) of RN care per resident, per day; 1 hour (60 minutes) of RPN care, per resident, per day and 2.2 hours (132 minutes) of PSW care per resident, per day. Each home should also have one NP for every 120 residents and a full-time registered nurse specializing in infection prevention and control. The Nursing Home Basic Care Guarantee was submitted to the government's Long-Term Staffing Study Advisory Group struck in response to the Gillese inquiry report.
RNAO is looking to the government to act on its call for a Nursing Home Basic Care Guarantee as well as ensuring personal protective equipment is fully available to all staff in long-term care and ensuring facilities have quarantine plans in place and single-occupant rooms have personal bathrooms. Ontarians can no longer wait for an independent commission into LTC announced by the Ford government to take place in September. In a Globe and Mail article, RNAO CEO Doris Grinspun says "Everything we need to know about this pandemic, what we did right and what we did wrong, we already know...What we need now is sincere, fast and funded action."
So far, close to 6,000 have signed our call to the Ontario government to make changes in long-term care. Please sign our action alert and share it with others to have the government act by July 31. To learn more about the growing support for our guarantee, please read our media release.
Earlier this month, RNAO also urged the Ontario government to immediately direct all nursing homes in Ontario to reunite residents with their loved ones, including those in nursing homes experiencing a COVID-19 outbreak. A five-step process was prepared by RNAO's experts so homes can ensure visits are safe, meet people's needs and prevent further suffering. For more information, please read our media release.