RNAO calls for end to the selling and promotion of vaping products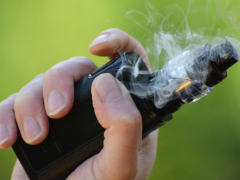 With the popularity of vaping growing in Canada, health authorities are waking up to a public health crisis that threatens the health of children and youth.
In an op-ed by RNAO CEO Doris Grinspun, published in the Ottawa Citizen, she notes a teenager from London, Ont. was put on life support after suffering a severe pulmonary illness linked to vaping. Quebec also reported its first severe illness case linked to vaping.
In May 2018, Ottawa legalized nicotine-based vaping products in May 2018 and since then, big tobacco companies have introduced new brands and set their sights on a new market: young people.
Teenagers are being drawn in, lured by sleek packaging and colours, candied flavours and slick marketing campaigns. Vaping devices are odourless, discreet and damanging.
As nurses, we need to call on our government to protect citizens from harmful substances by clamping down on the selling and promotion of vaping products. We join the call by the Canadian Cancer Society to increase the purchase age for vaping products to 21, as numerous U.S. states have done. In Ontario right now, the age limit is 18.
Read the full op-ed online and share on social media.

Retweet our CEO's message:
RNAO CEO @DorisGrinspun says that there insufficient evidence that e-cigarettes are an effective smoking cessation tool. She urges the government to supress the sale and promotion of vaping products. https://t.co/A7bSZqSunG
(https://twitter.com/RNAO/status/1178761506588110855?s=09)