RNAO and OMA statement on Personal protective equipment as priority for frontline workers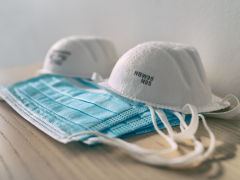 Frontline health-care workers must have the personal protective equipment (PPE) and supplies they need to care for their patients during the COVID-19 outbreak.
On March 22, RNAO released a joint media release with the Ontario Medical Association (OMA), calling on all levels of government and organizations to continue their efforts to bring urgency to the global shortage of PPE and essential medical equipment.
In the statement, RNAO CEO Doris Grinspun said "we must act now for all eventualities, given the global shortage of supplies. This is a serious and dire situation for our frontline workers."
RNAO and OMA also urged anyone with a supply of masks not in use for the current emergency to immediately repurpose them for frontline health-care workers. This includes:
-Health care and education related institutions that have PPE stocks for their simulation labs
-Other health professionals such as dentists
To learn more about the need for PPE, please read our media release.