RNAO advocates for patients in response to Bill 87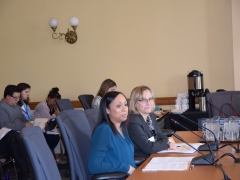 The people of Ontario place a great amount of trust in our health system and the health-care professionals from whom they seek assistance in times of need. That's why RNAO supports the strictest sanctions possible in the movement towards zero tolerance of sexual abuse by a health-care provider.
On April 26, RNAO director of the nursing and health policy, Lisa Levin, along with Cheryl LaRonde-Ogilvie, nursing policy analyst, presented RNAO's response on Bill 87: Protecting Patients Act 2016.
Included in our response to the Standing Committee on the Legislative Assembly is the creation of a new centralized regulatory body and independent tribunal to oversee all cases of alleged sexual abuse of patients by health-care professionals.
In addition, giving regulatory colleges more power to protect the public from sexual misconduct and expanding the definition of "patient" in the Regulated Health Professions Act to remove the time restriction of one year.
The full submission and speaking notes are available online on RNAO.ca/policy.