RNAO's 92nd AGM celebrates nursing achievements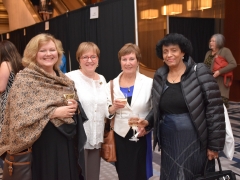 Embracing this year's theme: Values. Evidence. Courage, more than 600 RNs, NPs and nursing students came together on April 27-29 to mark another momentous year for nursing at RNAO's 92nd Annual General Meeting (AGM).
The three-day event included notable guests such as Premier Kathleen Wynne, Health Minister Eric Hoskins, PC Leader Patrick Brown and NDP Health Critic France Gélinas. They addressed members about the accomplishments and challenges facing Ontario's health system including the province's decision to provide drug coverage for every person under the age of 25, publicly-funded off-loading devices, overcrowding in hospitals, and a $100 million dementia strategy.
Seven Ontario long-term care organizations were also honoured for becoming RNAO's first Long-Term Care Best Practice Spotlight Organizations (BPSOs). See our BPSO news brief from last month for more information.
During the main event on Friday, April 28, RNAO's CEO Doris Grinspun and President Carol Timmings gave their annual reports and Angela Cooper Brathwaite was elected as RNAO's new president-elect. Outstanding nurses were also recognized throughout the day for Recognition Awards while top health-care journalists were honoured during the Media Awards.
To end the AGM, attendees were treated to a panel – moderated by The Globe and Mail columnist André Picard – on medical assistance in dying and how it affects RNs and NPs in their practice. Watch the archived panel on our Youtube page.
Photos and video highlights from the AGM are now available
For an overview of all of RNAO's achievements in the last year, please read our annual report online.