RNAO's weekly updates - October 2021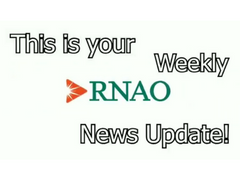 Did you see RNAO's weekly video updates on social media in October? The updates provide a brief overview of what RNAO and its members have been up to each week, and also feature important nursing and health-related news.
In case you missed them, the following updates were shared:
Follow RNAO on Twitter to stay up-to-date on the weekly updates. For past updates, please visit RNAO's official YouTube channel.
RNAO also released more episodes of Small Talk in October: