RNAO's virtual 95th AGM (June 11-13) celebrates the Year of the Nurse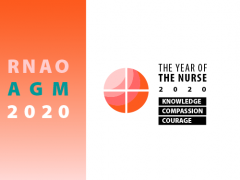 RNAO marked the Year of the Nurse by recognizing the extraordinary efforts and achievements of members during its 95th Annual General Meeting (AGM).
This year's event, which is normally in-person and live-streamed, was held virtually (June 11-13) given the COVID-19 pandemic. Through Zoom and livestream, 802 viewers tuned in to RNAO's AGM.
The three-day event featured greetings from various politicians and honoured guests including Doug Ford, premier of Ontario; Christine Elliott, deputy premier and minister of health; Dr. Merrilee Fullerton, minister of long-term care; Andrea Horwath, NDP leader and leader of the official opposition, Steven Del Duca, Ontario Liberal Party leader and Mike Schreiner, Green Party of Ontario leader. As well, Dr. Barbara Stilwell, CEO of Nursing Now Global, also provided greetings and Richard Ricciardi, president of Sigma Theta Tau, shared his thoughts in a letter read by RNAO president Angela Cooper Brathwaite
To honour the 200th anniversary, we had a visit from the founder of modern nursing Florence Nightingale. We invite you to see for yourself.
During the business portion of the AGM, RNAO CEO Doris Grinspun delivered her annual CEO report, the results of One member, one vote were announced, and Angela Cooper Brathwaite gave her president's report before passing the gavel to incoming president Morgan Hoffarth.
In addition, five resolutions were discussed and passed including one on the regulation of e-cigarettes and vaping for Ontario youth, access to safe drinking water and sanitation, addressing vaccine hesitancy and initiating research and increasing awareness of the importance of strong environmental laws.
During the AGM, organizations were honoured including four Ontario long-term care organizations who received their designation as Best Practice Spotlight Organizations (BPSO). They include Fiddick's Nursing Home, Holland Christian Home Inc – Faith Manor, Markhaven Home for Seniors and Nipigon District Memorial Hospital. To learn more about the organizations and the BPSO program, please see our AGM portal.
RNAO also presented its annual Recognition Awards to 13 individual winners and three groups to honour the nursing contributions they have made in areas such as clinical practice, policy, research, administration and education. Journalists receiving awards for excellence in health-care reporting were also recognized as part of RNAO's annual Media Awards.
To cap this year's AGM festivities, RNAO hosted a dynamic and inspiring closing keynote panel entitled: Celebrating the Year of the Nurse: Scaling Up Our Voices. The panel, moderated by our CEO, featured international nursing leaders Dr. Barbara Stilwell, executive director of Nursing Now Global and Dr. Mary K. Wakefield, former acting deputy secretary for the U.S. Department of Health and Human Services under President Obama.
To watch video highlights of our 95th celebration, check out our AGM portal.